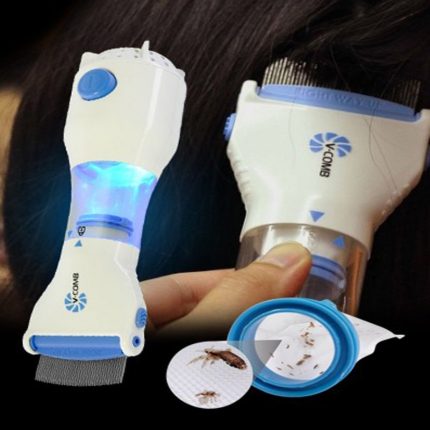 Anti Lice Containers in Pakistan
Electric Head lice Treatment Machine-V-Comb Nit Eggs Removal in Pakistan
V Nit Comb Powerful Lice Comb Electric Head Lice Treatment Nit Removal Metal Scalp Message Comb in Pakistan
The lice brush is a progressive gadget that joins brushing and vacuuming to dispose of head lice and eggs.
As you brush, it extricates head lice and eggs from the hair into the catch channel.
The channel unit is enlightened by a splendid LED so you can perceive what has been expelled from the hair.
The brushing unit highlights stainless steel teeth with tender adjusted edges and 2 flexible brushing points.
After treatment, simpoly disengage the catch channel and secure the top. No all the more speculating if your head lice treatment has worked, it?s all in the channel!
Lice Comb ? the creative sensitivity and pesticide/compound free head lice arrangement
Distinguishes and avoids invasion
Takes out head lice and eggs (nits) ? even super lice
As simple as brushing
Tender on the scalp
Electrical Device
Clean expendable channel framework (4 dispensable channels provided)
Smaller and ergonomic outline
Driven lit up channel unit
Flexible brushing point.online shopping in pakistan
Adjusted stainless steel teeth
Substitution minimal effort channels are accessible
CE guaranteed/FDA enrolled
Outlined in Australia
Consents to Australian Standards
Pressing INCLUDING
Electric Lice Comb.Shoppe-me pakistan
4 x expendable catch channels
Guideline manual
Cleaning brush
Fast guide